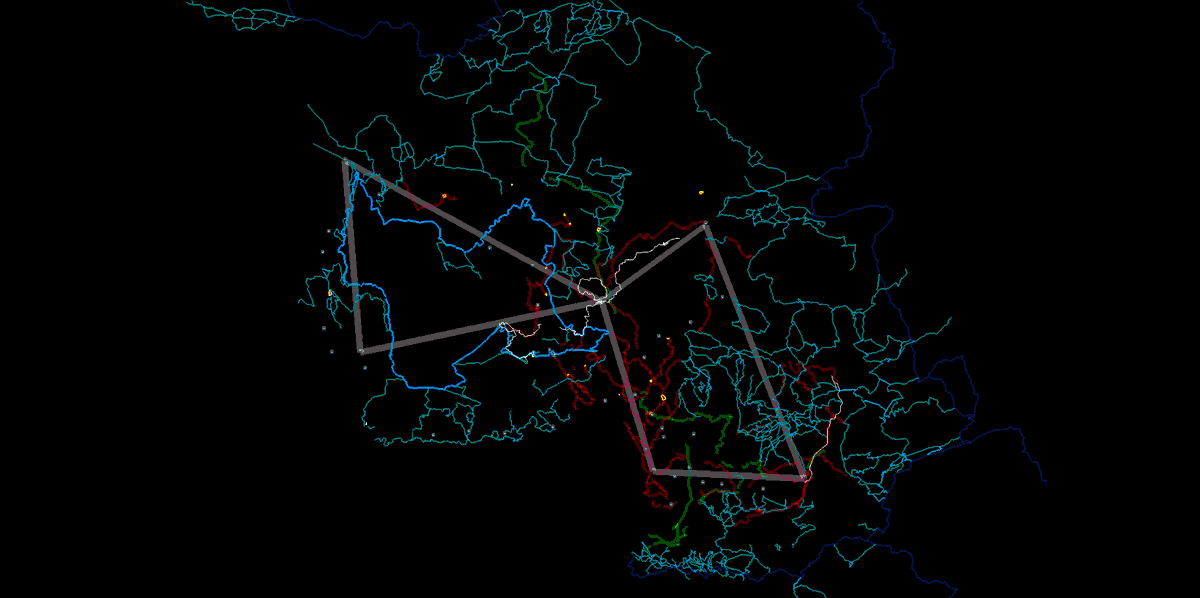 The GR2013
Yesterday's excursionists…
Hiking is a massive sociological fact (8 million declared in France) and a historically recent activity. At the end of the 19th century, with the advent of rail transport, which made it easy to reach walking sites, excursionism was growing all over France – and in spectacular fashion in Marseille. The famous Société des Excursionnistes Marseillais, created in 1897 by the publisher Paul Ruat, was proud, at the beginning of the 20th century, of 11,000 members. Passionate about maps, photography, techniques and nature, these proto-ecologists are shaping a new sensibility and opening up new spaces for the social practice of hiking.
Today's walking artists
Walking artists are artists who place at the center of their practice the question of territory and the act of walking. This international niche of contemporary art, very established in the United Kingdom, Germany and Italy, is also present in France and particularly in Marseille, where a dozen of them have recently formed part of the Le Cercle des walkers.
Among the influences of the walking artists, we can cite major figures of Land Art (Robert Smithson, Richard Long, Hamish Fulton), literary influences such as the psychogeography of Guy Debord (1955) or even American photographers who participated in the exhibition. New Topographics in 1975.
The sensitive exploration of the territory, the relationship between public and private space, between city and nature and a desire to get out of the white cube and the museum are all issues that are close to the heart of walking artists.
"… The aging Palace wants to see how Le Sentier will unfold its course between its passageway and its South and North gates. For its part, Le Sentier, with its two-year experience in building the metropolitan loop, wants to show and cross a built space and its history. Le Sentier explores cities, ports, myths, the space of the world gathered in Le Palais … "
_Christine Breton and the Circle of Walkers
The birth of the GR2013
The GR2013 bears in its name its date of birth and its cultural specificity.
Metropolitan path of 365 km imagined and marked on the occasion of Marseille Provence European Capital of Culture 2013, it is also a sustainable project which invites to observe, explore, learn, tell in order to finally inhabit a territory better. It is a public space that traces a physical and narrative continuity in the metropolitan space.
It allows an unprecedented movement of inhabitants and visitors through 38 municipalities, over a territory of 3000 km2.
Initiated with artist-walkers and hikers, the GR2013 now also brings together many collectives of architects and artist-builders who are developing a concrete and poetic relationship to the territory.
By offering to survey urban or peri-urban territories, it crosses contrasting landscapes (highways and rivers, pavilions and hills, industrial, commercial, natural areas, etc.) and invites the inhabitant, expert or visitor to build a more intimate relationship. with places.
The GR2013 is the result of a collaboration between the steering committee, the 38 municipalities crossed, local authorities, Marseille excursionists and hiking clubs, associations, artists, local tourism and cultural players …
The steering committee: The Departmental Council of Bouches-du-Rhône, The French Hiking Federation (and its Departmental and Regional Committees), My Provence.
The artist-walkers: Nicolas Memain, Hendrik Sturm, Christine Breton, Geoffroy Mathieu, Christophe Galatry, Mathias Poisson.
Collectives of artists, residents and architect-builders: Le Cabanon vertical, Le Collective ETC, Yes We Camp, Collectif SAFI, OPP-GR®2013, Par Ce Passage Infranchi, Le Bureau de l'Envers, La Folie Kilometer, Les Pas Perdus, Hôtel du Nord.
The 38 towns crossed: Aix-en-Provence – Allauch – Aubagne – Auriol – Beaurecueil – Berre-l'Étang – Cabriès – Cadolive – Châteauneuf-les-Martigues – Gardanne – Gémenos – Grans – Istres – La Fare-les-Oliviers – La Penne-sur-Huveaune – Lançon-Provence – Le Tholonet – Les Pennes-Mirabeau – Marignane – Marseille – Martigues – Meyreuil – Mimet – Miramas —Pélissanne – Peypin – Plan-d'Aups-Sainte-Baume – Port-de-Bouc – Rognac – Roquevaire – Salon-de-Provence – Saint-Marc-Jaumegarde – Saint-Miter-les-Remparts – Saint-Savournin – Saint-Victoret – Septèmes-les-Vallons – Velaux – Vitrolles.

If you're expecting an unbroken dawdle through lavender fields, however, don't strap up your boots just yet — the trail is described by its makers as 'the first metropolitan and artistic hiking trail'. What does this mean in reality ? Essentially, the route sets out to represent the nuts and bolts of everyday Provence, leading past shopping malls, disused railway lines, nature reserves, country manors, industrial estates and other landmarks 'that you pass everyday without necessarily looking at them'. (…) The trail itself isn't to everyone's taste, but where would be the fun in that ? »
Ben Lerwill, 01/04/2014 Read more